Sheer khurma-Ramadan festival recipe

By
Sridher
Cuisine Style: India | Cooking Time: 8 to 10 min | To Serve: 4 | Type: Ramadan festival special
Ingredients
Semiya [Vermicelli] -¼ cup or 4 tbsp [Roasted or plain]
Milk-1 ½ to 2 cups
Sugar- ¼ cup
Cardamom powder – ½ tbsp
Raisins - 7
Almonds -5
Cashew Nut - 4
Pistachio - 5
Sarai paruppu[Charoli seeds] - 1 tbsp
Rose water - 1 tbsp
Dates - 5 to 7
Saffron - few
Ghee [melted butter] – 3 tbsp
Preparation
Boil 1/2 cup milk, add dates then soak it for 30 min.
Heat ghee in a pan then roast cashew nuts, raisins, charoli seeds, pistachio & almonds keep it aside.
Add semiya, roast then keep it aside.
Heat broad pan add add milk let it boil & wait milk becomes slightly thick.
Add semiya let it cook till soft
Then add sugar mix well.
Add cardamom powder & saffron
Add soaked dates then cut off heat.
Add roasted nuts & raisins.
Finally add rose water. Serve hot or cold.
Tip
For healthy variation of sheer korma add jaggery or brown sugar

Sheer kurma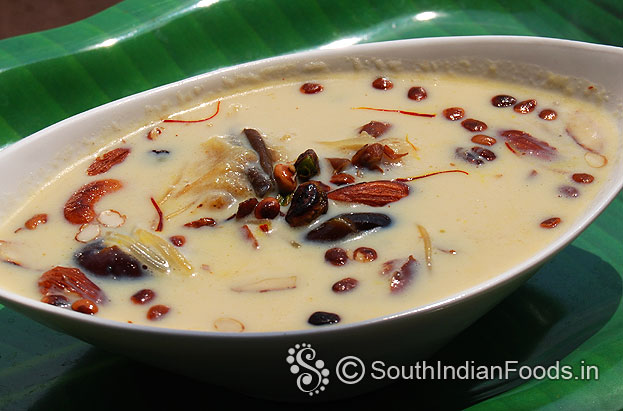 Rate this recipe
You may also like these recipes

Chocolate ladoo
Cocoa powder [Unsweetened] - 4 tbsp. Sweet condensed...
Read More >>

Palak poori
Spinach[Palak, pasalai keerai] – ¼ cup [finely chopped]...
Read More >>

instant basundi
Milk - 1 ltr. Sweet condensed milk - 1/4 cup...
Read More >>

Sago moong dal kichdi
Sago small [javvarisi, ...
Read More >>

Carrot laddu
Carrot - 1 [ big, finely grated] Apr.½ to ¾ cup]. Swee...
Read More >>

Mangalore buns
Wheat flour – 1 cup. Banana - 1 [fully riped]. Sugar - 2 tbsp...
Read More >>
Recipes by Categories