Cuisine Style: India | Cooking Time: 30 minutes | To Serve: 2 | Take with: Kurma | Type: Breakfast or Dinner
Parotta & Kurma are inseparable.Most of us would have tasted Parota & Kurma at hotels or road side motels or even on the road side hotels. But have you ever thought to prepare this great mouth watering dish at home. Its easy. With little practice even you can prepare this recipe. Paratha is prepared from wheat flour and it is available in most of the north Indian hotels. The south Indian style Parotta is prepared from Maida. Feast this great recipe to your taste buds.
First lets start making Parotta
Ingredients
Maida - 1/4 kg
Salt - as needed
Sugar - a pinch
Oil - 100 ml
Water
Preparation
Take maida in a big bowl
Add pinch of sugar, 1 tbs of oil and salt
Mix water slowly till you get soft dough (it should not be sticky)
Pour 50 ml oil in the dough and mix well (now you will get softer than before)
Make equal lemon sized ball and keep it for 1 hour
Place the maida ball on the polythene sheet/ kitchen marble floor and put 1 tbs of oil over the ball
Using your two palms spread equally (like a cloth)
Then make a spiral (like snail shell shape) by holding it at one end
Now press over the spiral and make Parotta
Note
50% wheat and 50% maida mixture can be used.

Tip
Optionally you can add white portion of the egg to get soft Parotta
Now Kurma...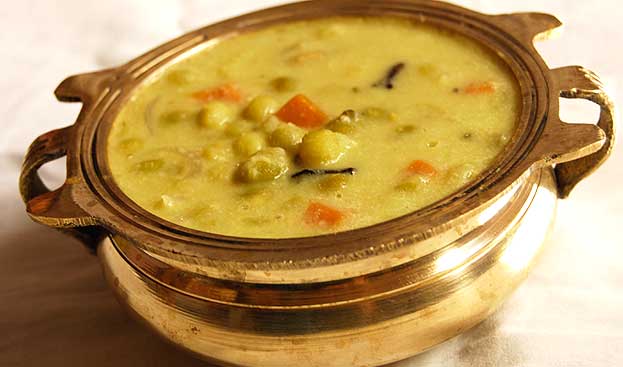 Ingredients
Onion
Carrot & potato - (1/2 inch diced boiled separately)-1/2 cup
Tomato - 1
Green chilli - 2
Ginger- 1 inch piece
Garlic bulbs - 3
Cashew nut (whole)- 6 nos
Poppy seeds (Tamil: Kasakasa) - tbs
Grated coconut- 5 tbs
Cloves - 4 Nos
Elachi - 5 Nos
Turmeric Powder- a pinch
Cinnamon -1/2 Stick
Buttermilk (diluted)- 1/2 cup
Salt - as needed
Sugar - 1 tsp
Curry leaves - 1 spring
Oil

Preparation
Cut the onion and Tomato alongside
Grind coconut, green chilli, cashew nuts & Poppy seeds to fine paste
Smash ginger & Garlic
Heat the pan and put 1 tbs of oil
Now put Cloves, Elachi, Cinnamon
Add the smashed ginger and garlic and saute till raw smell goes off
Then put the diced onion, curry leaves and fry till raw smell goes off
Add carrot and saute well and put turmeric powder
Then pour the ground mixture (coconut, green chilli, cashew nut & Poppy seeds) and mix well in low flame
Add water to get kurma consistency
After 10 minutes pour the butter milk and mix well
Add sugar and salt
You may also like these recipes