Curd Rice-245 Calories in 1 cup | Thayir Sadam | Bagalabath-How to make video

Cuisine Style: Tamilnadu | Cooking Time: 10 minutes | To Serve: 4 | Take with: Pickle | Type: Lunch, Kannum pongal festival special
Ingredients
Rice - 2 cups
Yogurt (Curd) - 2 cups
Oil - 1 tsp
Milk - 1/4 cup
Butter : 10 grms
Green Chilies - 2 (Finely chopped)
Chana Dal - 1 tbsp
Urad Dal - 1 tbsp
Mustard Seeds - 1 tbsp
Finely chopped Coriander Leaves - 1 spring
Finely chopped Ginger - 1 tbsp
Salt to taste
Asafoetida - A pinch
Preparation
Boil the rice and smash it.
Pour 1 cup of water and mix well. Then add milk
Make sure that its cooled down. Then add butter and mix well
Add Chopped green chilli, ginger, coriander leaves, Asafoetida, salt and keept it aside.
Heat the pan with oil and put mustard seed to splutter, then add Chana dal, Urad dal.
Add Curd and mix well
Now mix seasoned ingredients to the mixed curd rice.
Add salt.
Note
Tip
Pomegranate seeds and grapes can be added.
How this Curd Rice recipe is Unique?
Adding of butter makes this recipe unique.
How to make Curd rice video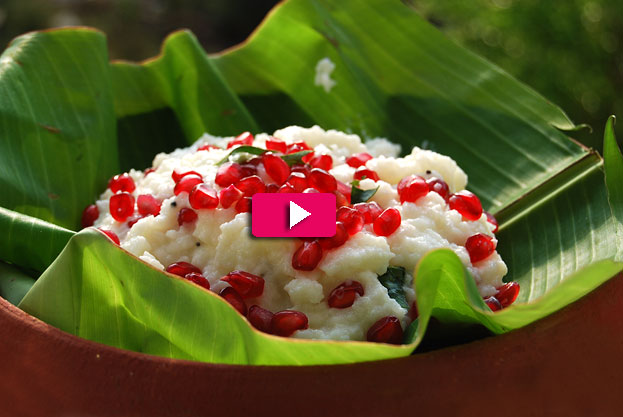 Rate this recipe
You may also like these recipes

Tamarind Rice
Soak tamarind in the water for 45 minutes and get thick extract. In a pan pour...
Read More >>

Tomato Rice
Generally tomato Rice differs according to their region. This tomato rice...
Read More >>

Lemon pickle
Lemon – 9. Gingelly oil – 50 ml. Mustard seeds – 1 tbsp. Fenugreek – 1 ½ tbsp...
Read More >>

Senai kizhangu chips
Senai kizhangu [Elephant foot yam] – half...
Read More >>
Recipes by Categories