Cuisine Style: South India | Cooking Time: 45 minutes | To Serve: 4 | Take with: rice | Type: Lunch Gravy
Vathal Kuzhambu and Srirangam are closely related. People of srirangam make this recipe often and serve with roasted appalam (not fried one). If you happened to visit Srirangam and taste Vathal kulambu & sutta appalam you would say "wow" and you can forget srirangam after some time but the taste you had will never ever go.
Vathal Kuzhambu tastes more when it is prepared with Vathal (dried vegetables) like Mangai Vathal (Raw Mango), Sundakai Vathal (Turkey berry), Manathakkali Vathal (Black night shade). Optionally you can use fresh vegetables such as Brinjal or Ladies finger. I used fresh Turkey berry. I don't recommend even homemade sambar powder to prepare this recipe. Everything should be roasted and manually ground
Ingredients
Fresh Turkey berry (Sundakai) - 1 Cup [Main Ingredient]
Fenugreek - 2 tsp *
Urad dhal - 2tbsp
Thoor dhal - 2tbsp
Coriander seed - 2tbsp
Pepper seed -1tbsp
Asafoetida - 1tsp
Turmeric powder - 1tsp
Red Chilli - 4
Tamarind - 75 g
Onion (small) - 10 (whole)
Jaggery - Lemon Size
Rice - 1tbsp
Curry leave - few
Salt to taste
Gingelly Oil
*Dry roast (dont add oil for frying) fenugreek and grind to fine powder.
For seasoning
Mustard - 1tsp
Urad dhal - 2tsp
Bengal gram - 2tbsp

Preparation
Slit Turkey berry and remove all the seeds out then put in water.
Dry roast and grind the following ingredients: Dry Chilli, pepper, Rice, Coriander seed,Thoor dhal, Urad Dal one by one. Keep it aside.
In pan heat the oil then add seasoning.
Add small onions (whole) and fry until the raw smell vanishes.
Then add the Fresh Turkey berry (Sundakai)
Sprinkle fenugreek powder over the mixture.
Add the tamarind paste and mix well.
Add the ground ingredients in the following order. Dry Chilli, pepper, Rice, Coriander seed,Thoor dhal, Urad Dal.
Then add turmeric, Asafoetida, Jaggery, Curry leave, salt.
If it's cooked well then pour Gingelly Oil.
Serve with boiled rice.
Note
To make Vatha Kuzhambu thick add ground rice before cooking. Roasted Pappadam is the best combination for Vatha Kuzhambu. It's a common dish in Srirangam.

Tip
The alternative vegetables are drumstick, Brinjal, ladies finger. This spicy gravy can be made with either dried vathal or fresh vegetables.
How this Vathal Kuzhambu recipe is Unique?
The unique combination of ground mixture and Jaggery brings extra taste to the Vatha Kuzhambu.
Vatha kulambu with sutta appalam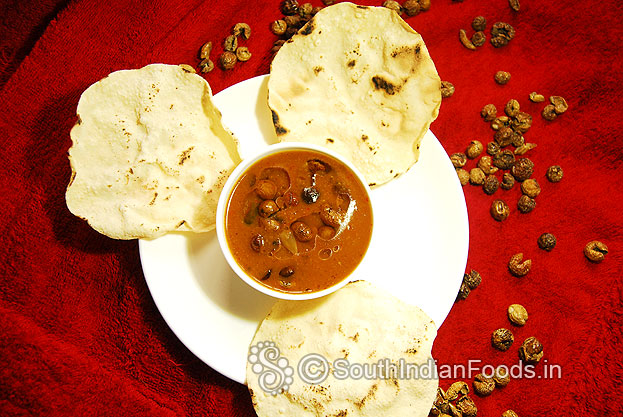 Vatha kulambu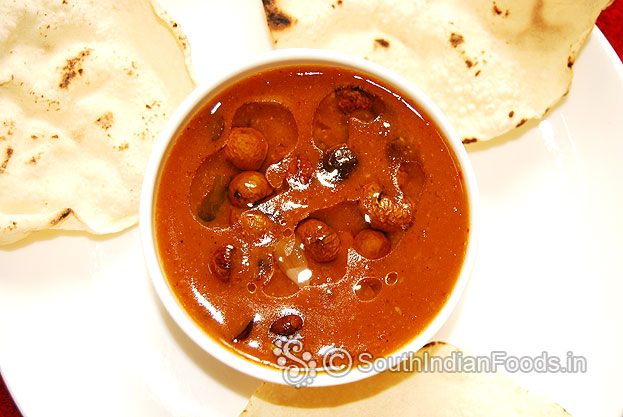 You may also like these recipes